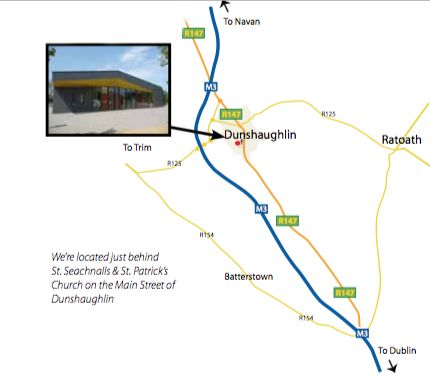 Parish Pastoral Centre, Dunshaughlin
Contact: 01 802 4780 or email pastoralcentred@gmail.com
The Operation of Pastoral Centre
The Centre is staffed and managed by a dedicated team of volunteers aided by a small number of FAS personnel. A board of management oversees the operation of the Centre and reports to the parish council.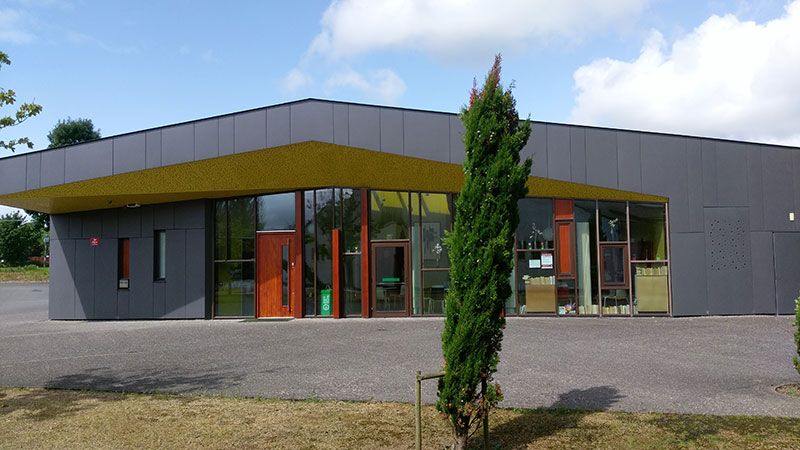 History
The Pastoral Centre was conceived as a means of fostering the Christian Faith in the Parish of Dunshaughlin and Culmullen and of enhancing the development of a deeper sense of community and of shared Christian values in the Parish.
Blessed by his Lordship Bishop Michael Smith on Sunday 6th December 2009, the Centre was officially opened by her Excellency President Mary McAleese on 27th January 2010.
Facilities Available
Our Pastoral Centre incorporates modern conference facilities and meeting rooms.
These are available to facilitate religious groups and charitable organisations, to encourage healthy indoor leisure activities for people of all ages, to promote and foster art, cultural and educational activities and to facilitate meetings and gatherings of a business or commercial nature.
Free parking is also available for up to 150 cars.
Charges
Rooms available to hire from €10 to €25 an hour. €50 an hour for very large single events. Discounts for block bookings.
Pastoral rates are available for groups involved in sport, leisure, health or community based activities and Commercial rates for those involved in business or commercial activities.
Zero charge to religious groups, societies and gatherings. These include prayer groups, bible study groups, gatherings after first Holy Communion, Confirmation, Accord marriage preparation, ecumenical services with our Church of Ireland brethren, catholic charismatic renewal meetings, choir practice, "meet and greet" sessions after Mass, registered charities etc.
Business Services
We provide a variety of business services such as:
– Photocopying
– Fax service
– Computer printing
– Computer usage and internet access
Tea, Coffee, Sandwiches and Scones are available for all our meeting rooms by ordering in advance
The Coffee Dock
Why not pop in to our coffee dock which provides a warm atmosphere for people to drop in for a chat or to read a book over a cup of tea or coffee. Fresh scones are baked daily. The coffee dock and its fully equipped kitchen are available to hire. Rates upon request.
Conference Hall
Our large Conference Hall can comfortably accommodate up to 150 people. The hall is equipped with modern audio-visual facilities including a projector, extra large screen, black out blinds on all windows as well as an integrated PA system.
The hall is ideal for a wide range of events such as:
– Staff Training Events
– Annual General Meetings
– Seminars
– Presentations
– Private Functions & Parties
The Orange Room
The Orange Room inspires creativity and innovation. As the name suggests, the room is orange from floor to ceiling. It is a space large enough for approximately 30 people with a small integrated kitchen suitable for teas, coffees or light refreshments.
This unique setting is ideal for:
– Art or music classes
– Bridge club meetings
– Small gatherings after a family mass or baptism – Any small private event
Board Room
Our private board room can cater for up to 14 people in a workshop style setting.
The room is ideally suited to:
– Small club/sport meetings
– Small fitness classes
– Similar sized gatherings.
Meeting Rooms
We have a number of meeting rooms which are suitable for professional counselling or similar services. Ideal for:
– Business consultancy meetings
– Small presentations
– Business Workshops
– Support groups e.g. bereavement groups
– Counselling sessions